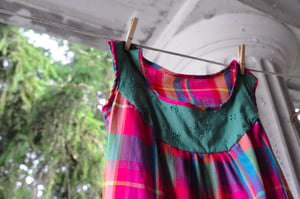 $

44.00 - On Sale
this dress is on sale!
this pink madras plaid cotton dress is one of a kind. it's perfect for those warm summer days and nights!
it's made of a super lovely lightweight cotton madras and green eyelet fabric!
this dress fits comfortably in the shoulder and yoke and is loose in the hips and waist. there is pink madras bias tape around the neckline and arms.
thank you!
(if you have any questions regarding this top... email me:
tiffanymjewell [at] gmail [dot] com.)
bust size 31-32.5"
waist size 24-26"
length 28" (from arm pit)
**please expect this item in to be mailed within a week once i've received payment**