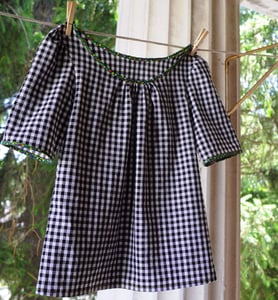 $

62.00
this cotton gingham top is one of a kind. it's perfect for layering over a dark long sleeved top or wearing alone the summer!
it's made of a lovely soft gingham cotton with vintage tulip bias tape trim...and, not to mention it's very comfortable to wear all day long! (and all year long!)
this top fits comfortably in the shoulder and is loose in the hips and waist.
thank you!
(if you have any questions regarding this top... email me:
tiffanymjewell [at] gmail [dot] com.)
bust size 31-32.5"
waist size 24-27"
**please expect this item in to be mailed within a week once i've received payment**